7 Successful Service Marketing Strategies
Of all the service marketing strategies, which are the best? In This article you'll find 7 Strategies that will help your service company remain relevant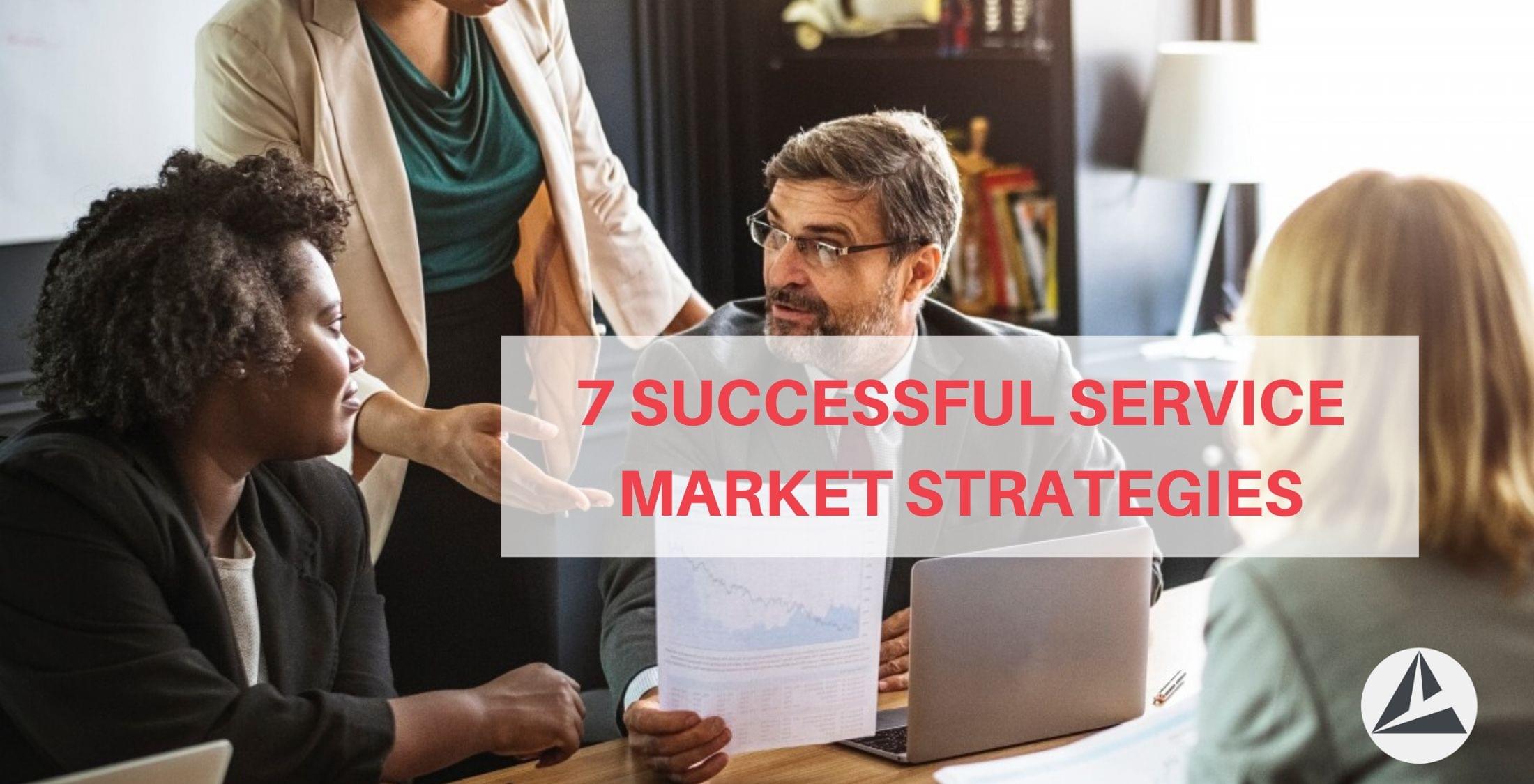 If you have a service, you want to reach as many people as possible. luckily strategies exist. But out of all the service marketing strategies currently available, which are the best? In This article you'll find 7 Strategies that will help your service company remain relevant and active.
#1 High Quality website
On the online service market from today the website of a company is one of the most fundamental things.
It's more than just a digital billboard, a good website is at the center of the online presence of a business and a projection of their expertise on the market. The website is an important tool to increase the visibility of the brand. A service company must have an easily navigatable website where people can find all the information they need, this allows for a greater conversion rate and user-experience. Also, a high quality website helps you to get a better position on the market.
Research has shown that around 80% of people online are looking for services. The internet has also emerged as the most common source of all information. Good information on your website leads to more involvement and a greater chance of a conversion.
However, be aware that a high-quality website requires the continuous process of testing and optimizing to maintain and improve it.
#2 Search Engine Optimization (SEO)
As stated in #1, the target audience should be able to land on your site without any problems. This is SEO. fast growing companies consider SEO to be one of the most important available strategies to generate traffic. SEO consists of two main components:
1. Onsite SEO
2. Offsite SEO
Onsite SEO
Onsite SEO uses target keywords to communicate with the content on the website. Keyword phases usually focus on the services that the website offers and help search engines to find more relevant information for the searchers. If someone searches for a specific service, they will land on the site that offers it.
Offsite SEO
Offsite SEO takes the form of back-links to the website, via guest articles on other websites or by means of a third party. As more relevant high-quality websites link to the site, Google will put the link higher in the rankings.
#3 Advertise
There are several platforms on which you can advertise your service company. These are mainly:
1. Service industry websites and publications
2. Social media
3. Google Adwords, Search engine Marketing (SEM), Yahoo, Bing and other portals.
4. Retargeting: A cookie-based technology that JavaScriptCode used to follow Audience anonymously on the Internet and display relevant advertisements. This way, however, can be difficult because the new European privacy law protects individuals on the Internet from unwanted cookies.
Advertising not only promotes your service marketing. It also plays a key role in generating leads, increasing both visibility and expertise.
Don't forget to choose the right form of advertising that best suits your service. Networks like LinkedIn and other service-oriented ads work best. With these networks you can reach the target customer segment directly, leading to more conversations, better click rates and lower costs. SEM, on the other hand, is more expensive and makes it difficult to expand your services. Facebook ads can be less effective for professional services for potential customers than other similar networks.
#4 Marketing Automation & CRM
1. Marketing automation
Marketing automation replaces repetitive manual processes with the automated. The conversion is supported by technology. Automation brings together all channels for online service marketing in one centrally managed system for creating, managing and measuring campaigns and programs.
As with any other tool, it is important that you choose the right service marketing automation software that is best suited for your business. The complexity and size of the solution needs to be able to be properly aligned to your requirements.
2. CRM
Another valuable software is the Customer Relationship Management (CRM) system. A large number of companies use CRM's for tracking and organizing customer information and detecting opportunities. A CRM module can help you stay connected and organized regardless of how complex your activities are.
The CRM system functions as a database for all customer information, including detailed notes about interactions. Information can be keyed, stored and can be found by the staff when needed. It leads to synchronization across different departments within your company.
#5 Analysis and reporting
It is important to analyze the correct statistics to measure results effectively. But you need to have the tools to collect the right data. This includes social media, your website and SEO.
Google Analytics is a critical tool to boost the traffic to your site and to measure and analyze. You can improve the SEO results with MOZ, while for example Hootsuite and similar tools provide detailed analysis of social media.
Regularly analyzing and testing helps you understand what works and what doesn't. Use them to your advantage.
#6 Social media
If you want more information about the relevance of social media for professional services, you will find it here. More than 60% of all buyers check new service providers first through social media, making it one of the most widely used sources of information than formal recommendations or referrals. In fact, the nature of referrals has changed with the advance of social media.
A recent referral marketing study found that almost 17% of all expertise-based referrals are conducted on the basis of interactions on social media. Simply put, the social media works as a boost to your expertise, reputation and content for your target group(s). It helps you to connect to valuable influencers and contacts, and to easily monitor your brand.
#7 Market research
Market research Is the foundation of almost all marketing strategies. Only with good market research will you know which service your target group needs and how you can make the right decisions. It provides a way to measure your results.
Market research also helps you to better understand customers. Research will give you an insight on how your company is performing, on which points it can be improved and ultimately what the right marketing strategy is to use.
The impact of market research is clear. Studies have Shown That companies which systematically research their prospects companies grow 3 to 10 times faster and are up to twice as profitable than companies that do not carry out research.
Final words
To stay competitive, you need to check your service marketing strategies regularly, review it and recognize points of improvement. You have to realize that online and digital marketing domains are growing much faster than their counterparts. Service marketing companies that successfully collect and use data on their performance will be the leaders in the market. A company always wants to reach its goals and with the right strategy this is certainly achievable.